Archive for April 23rd, 2012
I can never get enough of the beautiful nature around me! Can you? Thus, when it is Spring, my shutter is so busy working when my eyes can see buds and blooms of the Spring season. A part of green living for me is the love for nature and appreciating what it offers. And this Spring, some of what the nature offered me are the Hyacinth blooms. Check out what I have captured via my amazing Samsung WB750!
So tell me, who doesn't love Hyacinths? And not only are they lovely– they also smell really good!
When God made the world, I am so thankful that He never missed creating the flowers. He knew that many people including me would love any kinds of blooms and I am fortunate and blessed to have a pair of eyes to see their beauty. It tells me that the earth is good, and the environment is for us to enjoy! I can only hope that people would continue to take care of the planet, so that the next generation can still get to enjoy the beauty that we now see.
Evolution? Oh no! Creation it is! The beauty of the world is not odd's; it is God's!
110th/114th of the 366 BPC
As a woman, I may not be the most fashionable female creature out there but I do have this innate desire within me to take a peek at the latest trend in fashion. Checking out the Daily Look's site on womens fashion clothes gives me a lot of idea on the what and what nots of fashion. The site has past looks, yesterday's look, and today's look of great fashion trend and as I checked out the past looks page, I got so smitten with this photo below: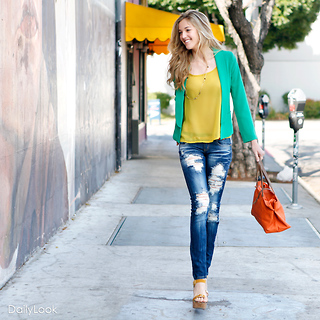 In other words, it's this casual look that I can imagine myself to be looking like.
These days though, my fashion includes maternity outfits! And if you haven't been pregnant yet, good for you as you never know yet how tough it is to find that perfect clothing! I sure can't wait till I give birth so I can go back to that casual way of dressing up. But until then, I shall enjoy the days when I have to deal with maternity fashion. It's incomparable, let me tell you! And the positive outlook solely depends on you.
In many grocery stores here in town, I can see signs encouraging grocery shoppers to patronize the local products produced in Wisconsin state. See, Wisconsin is known to be America's Dairyland, and as one, cheese and milk are in abundance here in the state. Also, there are farmlands producing potatoes and corns, too, so in the summer and Fall, there are a lot of crops that are locally grown and produced and are being sold at grocery stores or at flea markets. And what's better than supporting our own production, right? So to shop local is one of our advocacy around here!
In today's age when the recession is still on the rise and many business establishments are continually being affected, it helps when we consume our local products. Americal small businesses are being supported and in that way, we as consumers can help them get back to their feet, even in just a little way. The American Independent Business Alliance is also in accordance with such advocacy so I hope that you, wherever you are in America, will also support the local production that your city or state has been serving you.
Nobody else can help our fellow Americans but us. America's small businesses will continue to thrive if we ourselves will be there for them. There are Mom and Pop businesses in the locality near you that have their own products, too. If you're inquisitive enough to know more about them, you can be of great help.
I have noticed so many restaurant chains here in town that have shut down and a lot of stalls at the mall that have closed when the recession started. It couldn't compete with large corporation when we ordinary consumers won't support them. So from now on, we should make it a goal to patronize our own products so that we can help our town, our city, our state, and eventually, our country.