I stopped by at Walmart yesterday for some grocery stuff that I needed and when I passed by the Easter Holiday section that are now displaying clearance items up to 75% off, I got hooked. I bought some chocolates which I will put in the balikbayan box that we will send soon, and some stuff for Triz's craft. This giant pen caught my attention though:

I had to buy it because I was sure that the daughter will love it! Sure enough, she did and was so ecstatic when she saw it. She calls it THE JUMBO PEN and has been laughing about its size! It's as long as a ruler, like 12 inches I think. And it's really big.
The daughter, fresh from her dentist's appointment with the cotton still on her mouth eagerly took it from me and tried it on a piece of paper!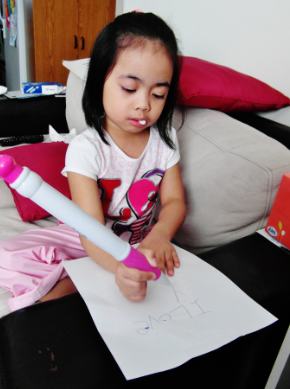 She thought it was sweet of me to buy her this but with the note she wrote, she was actually a lot sweeter than her mom! 😉
Thank heavens for girls! 😉
106th/110th of the 366 BPC
10 Responses to "Jumbo Pen!"